CoolBrush
tagcloud
Get a quote for custom design.
-----Select Style-----
-----Select Style-----
Web 2.0
Fashion \ Glamour
Art
Techno
Functional
Classic (business)
Trademark
Combined
Minimal
GUI
-----Select Color-----
-----Select Color-----
Black
Black&White
Grey
Red
Brown
Green
Green&Yellow
Blue
Blue&Orange
Blue&Green
Pink
Pink & Blue
Orange
Rainbow
-----Select Theme-----
-----Select Theme-----
Education
Business & Finance
Cars
Community
Computers & Internet
Universities
Hosting
Templates
Travel&Relax
Politics
Portal
Science
Sport
Shop
FREE
Icons\

Web 2.0
Icons are small graphic images represention a site section. Usually icons are square images 16х16 24х24 32х32 48х48 52х52
Web 2.0 is a technology popular due to its clarity.
Web 2.0 sites are characterized by:
- Simple base;
- Rounded shapes;
- Focus on content design rather than page design;
- 3D-effects;
- Mild, subtle background colors;
- Bright, strong element colors;
- Attractive icons;
- Large amount of free space;
- Clear, easy to read text.
If you like our work click to Get a Quote
About this set of icons
Joomplace is an eLearning provider and online marketplace to purchase Joomla components, Joomla extensions, Joomla modules, Joomla templates and eLearning authoring tools. The combination of blue and orange in the site design is used to symbolize the union of business reliability and modern technology.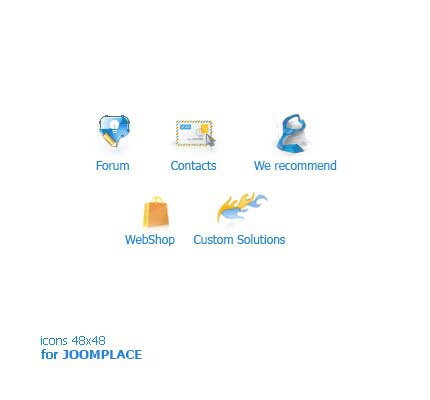 About this set of icons
GetComponent is a new ASP .NET component development vendor brand specializing in design and development of user interface (UI) and data visualization application for the Microsoft ASP.NET platform. Due to careful use of green elements on white background the design looks strict yet modern.


Getcomponent
size 16x16 & 52x52